NEW: November 5th 2008 PRESS RELEASE: KATHERINE JENERETTE BEGINS CAMPAIGN for U.S. CONGRESSS 2010
US House Outlook South Carolina 1: Ketner vs. Who in 2010?
1st District (Charleston, etc.) voters are likely to see another lively congressional contest in 2010. Activist/ philanthropist Linda Ketner (D), who lost to four-term US Rep. Henry Brown (R) by a close 48% to 52%, has not announced but has said a re-run is possible and she is forming what she describes on her website as "a loosely structured bipartisan groups of concerned citizens" to focus on improving life in the 1st District -- and which will keep her grass-roots volunteers involved before the next campaign.
But amid rumors that 72-year old incumbent Brown might not seek re-election, there is also talk that Katherine Jenerette, 39, a US Army Reserve Officer and a Republican activist, might seek the GOP nomination. Jenerette ran against Brown in last year's primary, garnering 19% to Brown's 70% in a three-way contest. Observers describe her [Jenerette]-- admiringly -- as "Palinesque," a reminder of just how much of an icon the governor of Alaska has become.
~ from Southern Political Report: Number 731, December 8, 2008
About Katherine Jenerette of South Carolina
Military Images on this WEB SITE or Linked to This WEB SITE and Information Do Not Imply Endorsement by DoD or Service Branch
NEW: Ft. Bragg Randy Oler Memorial Operation Toy Drop Dec 6th 2008 Lt Jenerette earns German Jump Wings

Lieutenant 'Mom' Katherine Jenerette ~ Awards - Birthdays - Home Sweet Home Photos Fall 2008
Get Out The Vote Republican NORTH MYRTLE BEACH TIMES & THE LORIS TIMES OCTOBER 30, 2008 - VETERANS DAY INFO FLYER WILSON SCHOOL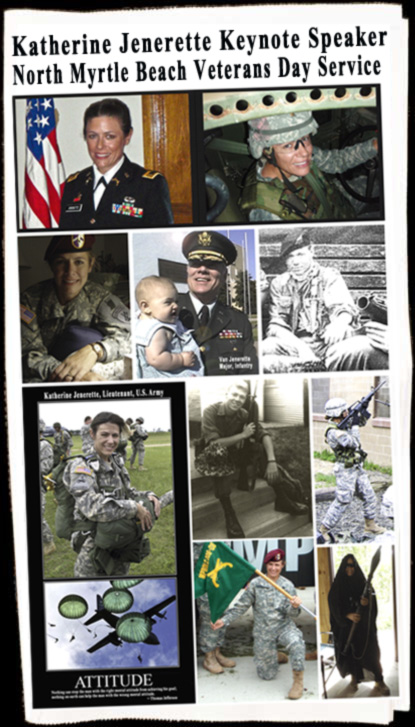 Benjamin Jenerette Leads North Myrtle Beach HS Varisty Girls Cross Country in State Championship Meet
South Carolina State Championship Meet Cross Country: Saturday, November 9, 2008
---


Benjamin Jenerette Leads North Myrtle Beach HS Varisty Girls Cross Country in State Championship Meet
South Carolina State Championship Meet Cross Country: Saturday, November 9, 2008