The National and State Flag of South Carolina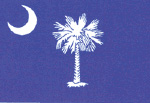 The Jenerette family has a long history of service to South Carolina and to our nation, from the American Revolution thru the Persian Gulf War. Our flag's history is an important part of our family and our heritiage. Here is the history of South Carolina's flag:
Colonel William Moultrie was asked by the Revolutionary Council of Safety in the fall of 1775 to design a flag for the use of South Carolina troops in preparation for the hostilities with England. He chose a blue that was the color of the Carolina soldiers uniforms and a crescent moon that matched the emblem worn on the front of their caps.

On March 26, 1776 in Charleston, the Second Provincial Congress of South Carolina set up an independent government, ending British rule in the colony and elected John Rutledge as President. It reconvened the same day as the South Carolina General Assembly.

Years later, on December 20, 1860, when South Carolina again declared its right of Independence, this time from the Federal Union, a national flag was needed. The General Assembly considered a wide range of designs and on January 28, 1861 added the palmetto tree to Col. Moultrie's original Revolutionary War flag. The tree symbolized the colonial victory of Sullivan's Island palmetto-log fort against the British in June 1776 and the new design became the National Flag of the Republic of South Carolina.

ELIAS JEANERETTE is listed on the roster of American troops who served during the Revolutionary War at Fort Sullivan, which was later re-named Fort Moultrie. He enlisted in Georgetown in 1776 and was a Sergeant in the 4th South Carolina Regiment of Artillery, commanded by Col Beekman, in the Company of Capt James Mitchell. Elias was later wounded in the battle of Stono, and was taken as a prisoner of war when Charleston was captured by the British in May 1780. The father of twenty-six children, Elias died in 1833 in North Carolina.
Samuel Thomas Jenerette, Elias and Margaret's youngest son, served in the Confederate Army during the War of Southern Independence in Company "B" Manigault's Battalion of South Carolina Artillery and Samuel's oldest son, Wilson, who served with the 14th South Carolina Volunteer Infantry was captured by the Federals in battle and died in Point Lookout prisoner of war camp in Maryland on September 8, 1862. Wilson was 16 years-old when he enlisted; he was born in Horry County April 11, 1845.
Van Jenerette, Major, Infantry, U.S.Army; is Samuel Thomas Jenerette's great-great-grandson and served in combat on the Korean DMZ in 1968-69. Van and Katherine's youngest child born August 1, 2001 is named Wilson Jenerette.
Katherine Marie Jenerette, is a U.S. Army veteran who served in the 1991 Persian Gulf War and is now; in July 2011, a U.S. Army Captain serving in Kandahar Province, Afghanistan.