PRESS RELEASE INDEX SECTION - Katherine JENERETTE
For more information contact: media@jenerette.com - www.jenerette.com
A TRIBUTE TO OUR VETERANS - November 11, 2006 - ...the value of a single vote, was paid for by America's military Men and Women and our Veterans. This Veterans Day we thank everyone of them for our FREEDOM and the freedom to VOTE in last Tuesday's Election 2006. click here...

---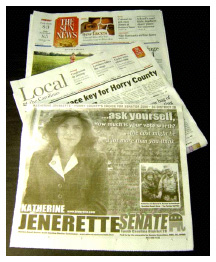 Get out the VOTE! - JUNE 8, 2006 - Ask yourself, how much is your vote worth? The cost might be a lot more ...VOTE in Tuesday's June 13th primary elections. (insert: Katherine and General H. Norman Schwarzkoph Operation Desert Storm ~ The Persian Gulf War) click here...

---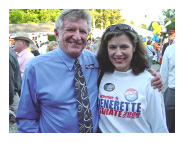 Galivants Ferry Stump - MAY 20, 2006 - All in the Jenerette family. Democrat John Jenrette meets Republican Katherine Jenerette at the historic Galivants Ferry Stump...Katherine scored an upset victory in Horry County, and nearly unseated one of the most powerful Democrat Senators in the state, Sen. Dick Elliott, who had never lost an election in Horry County before Jenerette challenged him. click here...
------------- 30 -------------