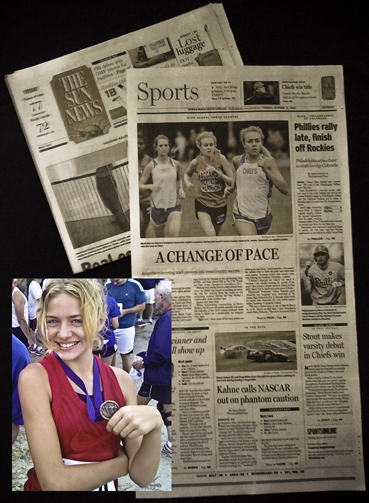 Original Story Myrtle Beach Sun News - Page One Sport Section Tuesday, October 13, 2009
<![if !vml]>

<![endif]>
Monday, Oct 26, 2009
Posted on Mon, Oct. 12, 2009
North Myrtle Beach
runner converting track prowess into crosscountry success
By Nate Ripke
For The Sun News
There are no traffic jams when you go the extra mile, just ask North Myrtle Beach eighth-grader Benjamin Jenerette.
Bursting onto the local seen last spring when she was named the Girls Most Outstanding Performer at the Horry County Track and Field meet, Jeneretteclaimed the individual crown in the 3,200-, 1,600- and 800-meter races, building quite the resume at the varsity level.
<![if !vml]>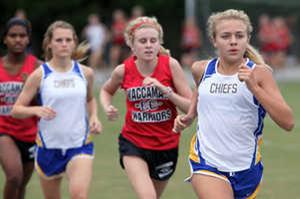 <![endif]>While representing the Myrtle Beach Track and Field Club this summer, Jenerette posted the third-fasted time in the nation in the 1,500-meter race (4:47:13) for females in the graduating class of 2014, and later placed 12th at the USA Track and Field Junior Olympics in Greensboro, N.C.
Without ever setting foot in a high school classroom, the Chiefs' top runner is working on carrying over her success from the track to the undulating terrains thrown her way during a 5,000-meter cross country race.
Easier said than done.
While dominating competition in Horry County, the 13-year-old middle-schooler has spent the majority of her 2009 season confused while trying to figure out a comfortable, yet competitive, pace.
"Right now I think some of the local meets are holding me way back," said Jenerette, who posted the fastest time in both the girls and boys dual meet against Socastee earlier this season while also beating her brother, Christian, a junior.
"I haven't figured out where my mark is because I am usually running by myself. If the guys' race starts a couple minutes ahead of [the girls' race] I try to catch and pass some of them."
Waccamaw freshman Grace Bennett gave Jenerette her toughest local challenge at St. James High School on Oct. 6. Bennett went stride for stride with Jenerette for over 3,200 meters before finishing 14 seconds behind.
"We had a choice to go to run at Myrtle Beach or at St. James on that date," said Waccamaw coach Brian Brennan. "We know how good North Myrtle Beach is and how good Benjamin is, but I talked to my top two runners and they said they wanted to come here and run against her. They hung in there for a while."
Jenerette, whose times have fluctuated over 60 seconds throughout the season, enjoyed having someone to run with.
"We got through the first mile in six minutes and it didn't feel like we were doing anything," said Jenerette, who admitted to talking with Bennett throughout much of the race to keep each other company. "Most of the time I don't have anyone to run with and no one is out there pushing me, it gets lonely."
To help raise the competition level for arguably the best girls team in the county, first-year North Myrtle Beach coach Laurie Occhipinti dropped several local meets while instead adding more statewide and regional meets to its schedule.
The stiffer competition has served as a barometer for Jenerette, allowing her to see where she ranks among the Southeast's top high school distance runners.
"Right now Benji struggles with her race strategy. She gives it her all for the first 2 miles trying to get out in the front of the pack and then hopes that everyone will die off," said Occhipinti, who has returned to the Grand Strand after running collegiately at Coastal Carolina. "That works at the local level, but as she gets older she will learn how to race a little bit smarter.
"There are times when she is training that I feel like she could be working harder, but you have to take a step back [and be empathetic] because she is only 13 and she has the tools to be great."
Jenerette has proven she has the raw talent to compete at the varsity level, but claims that in order to achieve her personal goal of running in the 2016 Olympic games she has to learn how manage a race regardless of the distance.
"My dad always told me training is 90 percent physical and 10 percent mental, but the race [itself] is 90 percent mental," said Jenerette, whose mother Katherine also ran collegiately at Coastal Carolina. "It's about getting your strategy down. Every race is a different strategy. Once I can realize that in my head and can pick the right strategy for the right race I will able to do better in the big meets.
"I think the best thing I could have done was run in the Junior Olympics - it really taught me just how fast I need to run to compete at that level. Right now I'm working on bringing that speed from the track and adding it to the distance in cross country."
© 2009 TheSunNews.com and wire service sources. All Rights Reserved. http://www.thesunnews.com
SOURCE: http://www.thesunnews.com/sports/high_school/story/1114309.html
<![if !vml]> <![endif]>

COMMENTS

:
south_carolina_runner wrote on 10/23/2009 10:07:31 AM:
19: 38
1st Place Time: 19:38 Benjamin Jenerette
THE 2009 Region 7 AAA COUNTRY CHAMPIONSHIPS
Grand Park at Market Common - OCTOBER 21,2009
GIRLS VARSITY RACE - 3.1 MILES
source: http://sc.milesplit.us/meets/60693/results/105719
DrunkUncle wrote on 10/16/2009 11:23:52 AM:
Well Mr. Ripke you should have done your homework before writing this article. While Jennerette is a definitely a "phenom," she still has yet to post the fastest time in our area.....that distinction would have to go to Myrtle Beach High School's Paige Cox. Paige ran a 20:09 on October 6 2009 against Carolina Forest and Georgetown ....and the girls team has been undefeated all year. So get ready for tomorrow guys because Ms. Jenerette will definitely have "someone to run with." See you all in the morning...........
south_carolina_runner wrote on 10/13/2009 04:22:23 AM:
Benjamin Jenerette's mother's name is Katherine Jenerette: "NCAA 1994-Big South Outdoor Track & Field All-Conference Honors - Coastal Carolina Univ - Womens 10000 meters"